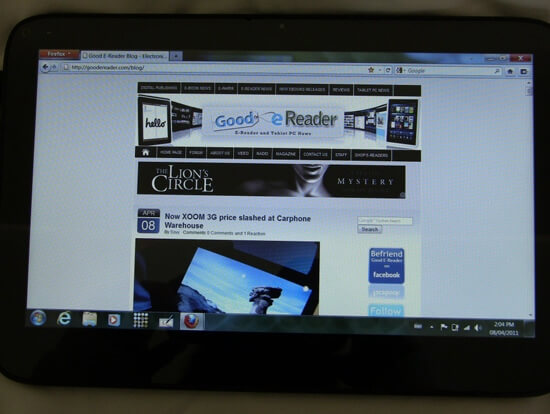 Welcome to another Good e-Reader Review! Today we look at one of the best Slate PC`s we have ever reviewed at Good e-Reader, the EXOPC! This is a great Windows 7 based Slate with a switchable EXO UI that really takes touch screen Windows devices to another level.
Hardware
The EXOPC features a 11.6 inch capacitive touch screen display with a resolution of 1366×768 pixels. It displays content in a true 16:9 aspect ratio and displays 135 pixels per square inch. It runs on a Intel Atom Pineview-M N450, 1.66 GHz processor and has 2 GB of DDR2 RAM.
One of the most exciting features of this device is that it features a 32 GB solid slate drive. This makes accessing and loading programs faster then most other Slates and Tablets in the market place. I found that with this drive there was no stuttering or weird load times with any of the built in applications.
The EXOPC has a built in accelerometer which allows you to switch between landscape and portrait mode on the fly. Although from my experience there is a 2 second wait time when you switch perspectives and the entire screen goes completely black.
This new slate from EXOPC has a fair number of hardware based external connectors. It has a docking station, mainly for hardware not on the market yet! It does have 2 USB 2.0 ports that you can connect Flash Drives to and load content right on your Slate, or copy it over to it. It also has a Mini HDMI port, so you can plug it into your computer, projector or television system. The best use of the Bluetooth aspect of the EXOPC was bluetooth, combined with a wireless keyboard it made typing on this a total breeze. It also has a 3.5mm headphone jack and great stereo speakers. The speakers were really surprising because they pretty well take up the entire lower half of the slate. It allows for some really crisp sounds and combined with Windows equalization software you can refine some good quality sound.
The internet experience on the EXOPC is really good, it features both WIFI and 3G in order to do your full online experience. It basically comes unlocked, so you can throw any SIM in there and it will start working. Even browsing via WI FI was really brisk.
If video chatting with friends or Skype is your thing you can take advantage of the 1.3 MP webcam. Although the webcam in terms of quality is really not that great, it does fairly stack up against most laptops with budget cameras built into it.
Finally you are getting around 4 hours of battery life out of this unit, so make sure you carry your DC charger with you. The battery life is one of the most disappointing factors of this device, but 4 hours allows you to really get the most out of it. You can of course extend the battery life by doing basic tasks and turning WIFI off.
Software
The EXOPC runs on the Windows 7 home edition 32 operating system and combined with the Solid State Drive, loads common tasks very quickly.
One of the most exciting features about this new Slate is that it has an entire custom UI that you can either turn on or off. So you can either enjoy the typical Windows experience on a mobile device OR you can turn on the EXO-UI.
The EXOPC UI is tremendous and connects right up to EXOPC store, that is very well laid out and allows you to download a ton of content. All of the content in the store is customized towards a touch screen device, you can tell they customized most of the apps to have larger buttons, bigger fonts and takes advantage of the 11.6 inch screen.
All of the common applications you will find here, like Twitter, Facebook, Dropbox, and many more. They also break down the content store into different sections. So you can download many newspapers, magazines, games, applications and tons more! Right away I downloaded a bunch of non name games, Wired Magazine, Facebook, Twitter, and a few others and was quite pleased on the end result.
The EXOPC UI once you install apps displays these apps on a honeycomb-esque background. You can swipe and gesture and organize your applications anyway you like. It looks like prospectively you can fit around 80 of them there and then create a second pane to have others there.
I am very happy with the great lengths EXOPC decided to traverse to get a huge hub of content going with their launch. All too often companies when launching a product will go with stock applications and not customize the device. Android tablets are notoriously awful for this practice. They just bundle in stock applications and hope customers won`t know the difference. It is very refreshing to have a very polished device from a custom software point of view, right from the get go.
Not only is the EXOPC custom UI experience great, but they also subtly enhance the Windows 7 operating system. It seems like some of the icons are larger and menus are a little bit bigger. Not overwhelming so it looks bubbly or like a cartoon, but you can tell they really took their time to insure that on a smaller screen all of the windows, menus and fonts remained consistently a good size. Since they give you a capacitive stylus with the purchase it allows you easily take notes, draw and use the screen as a WACOM stylus. I can imagine a fair number of artists using this as an all in one Adobe Photoshop and In-Design device to create some great content.
Speaking of Adobe, the EXOPC will display FLASH content and everything else you would enjoy with a Windows 7 based operating system. The sky really is the limit with the amount of applications you can install. On my review unit I had IRC, FTP, Adobe Master Collection CS5, Telnet and a bunch of other custom software and everything worked like a dream.
All in all, on the software side of things EXOPC felt like a really polished device. I experienced no crashes and it even came with Windows 7 SP1, so i did not have to install a ton of applications. Hell, it even came bundled with Microsoft Security Essentials.
Our Thoughts
The EXOPC is literary my favorite Windows Slate ever! If you read most of the review you can see the reasons why. It bridges the gap perfectly between a PC and a laptop. It absolutely destroys a netbook in terms of functionality and hardware specs. I would really recommend to get a slim blue tooth keyboard though for e-mail or if you do lots of writing.
There are a fair number of pros that i really liked with this device. I liked the fact it had USB 2.0 ports for portable drives, Flash drives and so on. The hardware itself is really fast, mainly due to the solid slate drive. I also loved all of the custom UI elements they added to almost make the machine a pure tablet on one hand, then switching it back to a full Windows 7 experience.
On the negatives I would have like a Mini or Micro USB port on the Slate in order to hook it up to my computer to transfer content directly. Having to load everything on a FLASH drive is a bit tedious and unless you have a 32 GB one, its hard to transfer programs or movies. The webcam is also lackluster and on par with many netbooks. The speakers also are on the back of the device! It always irks me to see speakers there, because many people cradle it in their lap, lay in bed etc. This makes it muffled unless you use the stand that they give you. I would also have liked to see dual cores instead of a single one and 4 GB of RAM instead of two.
If you are wanting to get your hands on one of these devices it does go by many names, depending on where you love. In the US its known as the EXOPC, in Canada the device is known as the Ciara Vibe, in Europe it is known as the Mobi-one and finally in Australia is known as the Leader Slate 12.
All in all, this is simply the best Windows 7 Tablet on the market and I can see why Intel had this device as their Slate of choice at CES in Vegas earlier on in the year. The price is a little on the pricey side (9) but you get one heck of a Slate PC for this price. If you are looking for a Windows based Tablet or Slate PC this is the one to get.
8.5/10
Related posts:
Unboxing the ExoPC Windows 7 Slate PC
ExoPC Slate reaches FCC
EXOPC is branded the Ciara Vibe in Canada
ExoPC slate delayed again
ExoPC will have different names in different regions
Ciara VIBE ExoPC finally up for pre-order at the Microsoft Store