It wasn't too long ago when there used to be a niche segment where we would come across e-readers that exhibited a certain degree of flexibility. Often and on there would be pictures of e-reader bend to some extent which would hold us in awe. Unfortunately, none of them ever turned out to be a market success and it was left to only the conventional and inflexible e-reader to satisfy the e-book loving crowd.
However, it seems such bendable e-readers are back again, thanks to a group of researchers based in Taiwan who claim to have hit upon a novel way of devising electronics that could withstand bending and shearing forces up to some extent. And the most surprising aspect of it all, our good old silk fabric is the center of it all. For it's all about a technique that comprises of silk in liquid form, which is converted to a membrane that exhibits properties of insulators and can function as flexible thin film transistors.
The method has been devised by an engineering professor along with two post graduate students at Taiwan's National Tsing Hua University and have stated they are already in discussion with a few manufacturers. Needless to say, the technology holds a lot of promise and could well be the material of the e-readers, LED displays and RFD tags of future.
The use of silk for the manufacture of electronic devices can also lead to a lot of savings cost wise as it is estimated that its just .03 worth of silk that would be required for every device. Then silk being a natural fiber also means the damage done to the environment is also the least. Much less than what plastics usually do.
There is no word though as to when we might get to see a silk e-reader in a real world scenario sharing retail space with perhaps the Kindle and the Nooks of the future.
Related posts:
Innovative Tablet-Size Flexible Electronic Paper Display
Inspiring Technology For E-Readers in 2010
Bridgestone The New Flexible E-reader
E-Readers Cost Might Come Down To Just 0 This Year
Deciding Factors for eBook Readers
ITRI introduces new flexible color AMOLED display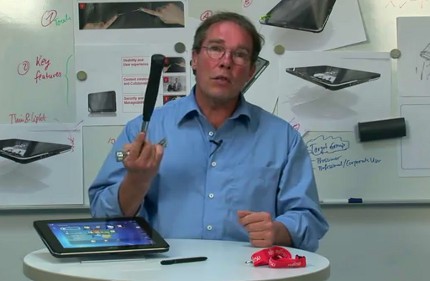 It was at the VISIT 2010 event held in Germany that the world perhaps had the first glimpse of a new tablet PC from Fujitsu that has been designed to run Windows 7 OS. Cut short to the CES 2011 event and this time, there was slightly more information available of the Fujitsu Slate though not enough to soothe many an anxious nerves.
What the CES had shown of the new tablet from Fujitsu include a 10.1 inch 1280 x 800 pixel display that featured N-Trig technology along with an innovative fingerprint swipe on the underside. The tablet at the CES came with an Intel Atom heart and was severely restricted in its functionality which was an indication of there being still some time left for the thing to get refined all the more. Fujitsu had also made it known that the tablet in its final configuration would be built around the new Intel Oak trail CPU.
While its still not clear when the tablet would be ready for a market debut, Fujitsu has in the meantime come up with an interesting video showing the usability and practicality of the tablet. And the tools used to bring out these aspects, as mentioned earlier include a hammer, chocolate and legos.
Why so? Well the logic behind it all is that Meinolf Althaus, Mobile Product Strategy Director at Fujitsu wants us to believe the tablet will get us started right away. Its will be as simple and intuitive as the hammer. After all, we don't have to remember how to use a hammer and we don't have to be taught which is the correct method of holding it. The same applies to the Fujitsu tablet as well.
The chocolate thing is to stress on the fact that the tablet, whose main intended clientele include those from the corporate world won't be just for consumption as most other tablet devices are. Instead, the focus with the Fujitsu tablet is content creation which again is easy as its all too familiar Windows stuff that the user will be greeted with.
Lastly, the soft silk scarf is to drive home the point the tablet would be just as inviting, comfortable and cozy as the scarf. In fact, the reference here is on the new user interface that Fujitsu is developing and would be on top of the Windows 7, something that would make the touchscreen issues of the Windows OS a thing of the past. To make things simple, if Windows 7 is a scratchy kitchen sponge, the UI layer on top of it would be like a soft silk scarf.
So while all of that is good and interesting, what was lacking is some hardware details of the tablet.
via hexus
Related posts:
Fujitsu to offer a Windows tablet
Fujitsu to launch Window 7 tablet in early 2011
Fujitsu Lifebook TH700 now on sale
Fujitsu develop's new resistive multi-touch panel
Ultra Slim Color E-Reader From Fujitsu
Fujitsu Set to Reveal New E-Paper Display Technology

Ebook Cracks:Polyphemus Silk Moth emerges
This Polyphemus Silk Moth cracks open its pupal shell and crawls free. Later, its "blood" can be seen pumping down the large vien inside its abdomen. These videos recorded in realtime. Much more butterfly/moth video, photography and life cycle studies available free to the public at jcmdi.com, and the Hi-Res version of this video is available on DVD at http for details.