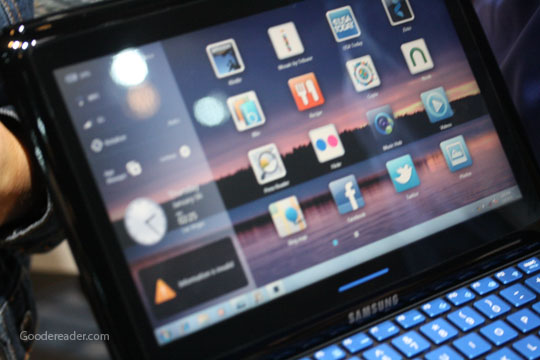 The Samsung Slide is a throwback to the initial style of tablet computer that had a full external keyboard and then the screen that slid over the keyboard to function as a full interactive tablet computer. The Samsung Slide expands on the old school way of doing tablets with new hardware to bring it more up to date.
The Samsung Slide features 10.1 inch capacitive touch screen with a resolution of 1366 x 768 pixels on a back-lit LCD screen. Its core processor is run on Oak Trail 1.15 GHZ processor and has 2 GB of RAM. For storage it will feature two different models, a 32 Gig model and a 64 Gig edition. You can also further enhance the memory of your Samsung Slide Series 7 via the Micro SD port. It will also have an ambient light sensor to make the screen brighter or dimmer depending on your environment.
For internet connectivity you will have a 802.11b and 3G with WIMAX technology. You will have around 8 hours of battery life and you can further extend it by turning the WI-FI off.
Other features of the device will entail a USB 2.0 port, integrated stereo speakers, HDMI out a 1.3 MP front facing webcam and all being run on the Windows 7 Home Premium OS.
Although this new device was admitted as a late prototype it was supposed to have a button that booted up a custom Samsung launcher. You had neat widgets that were popping up for you to interact with such as a clock, compass, Bing Maps, voice search, and many more. More touch based applications will be available via the Samsung App Manager and Windows Product Scout. Samsung AllShare (preloaded) enables users to control, search, swap, and play videos, photos, and music across a full range of DLNA certified Samsung devices, ranging from cameras and smart phones to TVs and PCs.
Finally, the content distribution system was done by Tribune and had magazines that had animation embedded on the front cover. One of the covers that blew us away was for the current issue of Marie Claire where the model on the front color actually smiled, winked, and moved her head from side to side, then settled back into her natural pose. Amazing.
In terms of price, the product reps that were showing off the demos had no clue, but we heard one of the managers comment that it would be 9.00 and be released in April of 2011.
Related posts:
The new Samsung Gloria – 10 inch Windows 7 Qwerty Tablet
Good E-Reader IFA Exclusive – Samsung Galaxy Tab
Good e-Reader CES exclusive – Toshiba Android 3.0 Tablet PC
Good e-Reader IFA Exclusive – Telefunken T9HD 3D Android Tablet
Good E-Reader IFA Exclusive – Samsung Galaxy Tab now available on pre-order
Good e-Reader CES Exclusive – Coby unleashes 6 new Tablet PC's