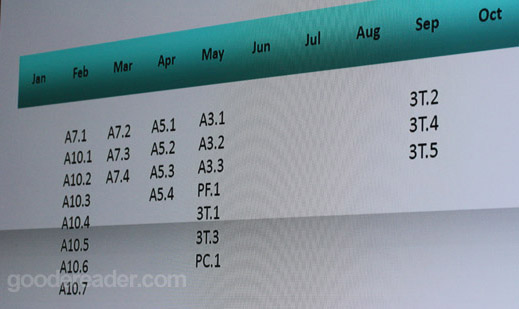 We were at CES in Vegas this year when we took a long tour of the eLocity booth and got hands on with all of the new technology coming out this year! The big news is their series of 10 inch and 7 inch tablet computers to come out in February and March of 2011 with some interesting devices coming later on in the year.
February 2011 Release
The most pressing news is the release of the A10 series of 10 inch tablet computers. When we were at CES there were over 7 versions of the A10 in development! The big difference between them was their size of internal memory. They ranged from 4 GB with the A10.1 to 256 GB with the A10.7. It seems for the final production models they are going with only four options. A10 4GB model will sell for 9, while there will be a 32GB option for 9.99 and a 64GB version for 9.99.
Lets take a look at the final hardware specs for the A10 line of eLocity tablets. They will have an Nvidia Tegra 2 T250 processor that is around 1GHZ with 1MB of L2 Cache. It will be coming out of the gates with Android 2.2, but the reps told us Honeycomb would be provided with an over the air update. There is 512 MB of RAM packed into the device and you will have a resolution of 1366×768 with the 10.1 inch tablet.
Other features include stereo speakers, 3 MP front facing camera, WIFI, 3G, USB, Mini USB, HDMI, a three access accelerometer and an ambient light sensor.
The A10 when we saw it looked very refined and polished and are eagerly awaiting to get our hands on one. Pre-orders are going to start Febuary 15th with shipping to follow within a few weeks.
March 2011 Releases
In March 2011 we are seeing more tablets come from eLocity, this time in the 7 inch category. The eLocity A7 will be the follow up to the 10 inch tablet and will include different features other then internal memory based on the different models.
First of all it will be a seven inch capacitive WVGA color touchscreen with a resolution of 800×480. It has a very solid processor with the Nvidia Tegra 2-T250 and 512 MB of RAM. This model as well will ship with various levels of internal storage and you can further increase the memory via MicroSD to 32 GB.
The A7 will come with 4 GB of internal memory with a resolution of 800×460. The A7.1 will come with 8 GB of memory and have a resolution of 1024×600. The A7.2 will ship with 32 GB of internal memory and a resolution as well as 1024×600 and finally the A7.3 will have a whopping 128 GB and the same resolution as the A7.2 and .3.
Other features include 1.3 MP webcam, stereo speakers, WIFI, bluetooth, USB, HDMI, acceleromter and ambient light sensor. Battery life will last you around give hours total and it will ship with Google Android 2.2, but it will have wireless updates to 3.0.
April 2011
This April eLocity is going to release their first Tablet PC phone, much akin to the Dell Streak 5. The model will be known as the A5 and will be feature a 5 inch capacitive touchscreen, thats running Google Android 3.0!
This is going to be one great phone! It will be running a Nvidia Tegra 2-T250 processor with a ULP GeForce. It will have 512 MB of 667 MHZ Ram and will come with different models for internal memory from 16 GB to 128 GB!
Other features include a 3 MP front facing camera, stereo speakers, mic, WIFI and 3G with an embedded card. It will also have bluetooth capability and have a USB, HDMI, docking port and ambient light sensor. Finally it will have a 3 axis accelerometer and an microSD card to increase memory up to 32 GB.
Rest of the Year
The company intends on releasing a number of 3D TV's and other gadgets going forward, as well as an ultra secret tablet we were privy too, that is going to be launched towards the end of the year. We saw a prototype of a glorious 3D tablet! Specs and hardware are kept a secret for now, but we promise to reveal it later on.
Related posts:
Stream TV ELocity A7 tablet launch pushed to December
Elocity A7 now shipping
eLocity A7 tablet now available on pre-order
eLocity 10 inch Android tablets up for pre-order
Elocity A7 now available for pre-order
BENQ R100 Android Tablet PC due out Q1 2011

Good E-Reader Blog - Electronic Reader and Tablet PC News