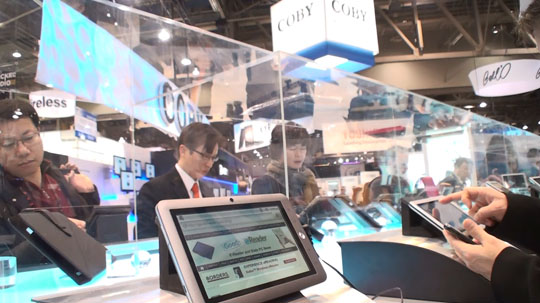 Coby has certainly been busy in the research and development department unleashing a flurry of tablets at the CES show in Las Vegas. Where most companies are showcasing one or two tablets, in addition to a large variety of electronics, Coby is focusing very strongly on the tablet segment to diversify their portfolio.
At the Coby booth they were showcasing six different tablet computers all running the Google Android operating system. All models included WI-FI for internet connectivity and bundled applications such as Aidko e-Reader, document viewer, calendar, and a clock. Although all models do not include the Google Android Marketplace, Coby has entered into a partnership with Appslide for alternative Android apps. They also all feature mini HDMI and USB 2.0 connectivity for integration to your PC.
First up to the plate was the Kyros MID7015-4G which featured a 7 inch TFT LCD resistive screen technology with a paltry resolution of 800×480. For processing power it has a Telechips TCC8902 ARM1176 800 MHZ CPU. It was running on the Android 2.1 operating system and 256 MB of RAM. For storage space it had 4 GB of internal memory and you could increase it via a Micro SD card, up to 16 GB. and had an accelerometer that allowed you to switch between landscape and portrait mode. It had a mini HDMI output and a USB 2.0 for PC connecting. For multimedia it had stereo speakers and an integrated microphone.
Next we have the MID7025-4G which featured a 7 inch TFT LCD resistive screen technology with a resolution of 800×480 pixels. This model also runs Google Android 2.3 and has 4 GB of internal memory, but can be upgraded to 32 GB via MicroSDHC memory. Speaking of memory this model has 512 MB of RAM and has a Samsung SP5V210 Cortex A8 processor.
Batting third in Coby's Kyros line of tablets comes the MID7026-4G 7 inch resistive TFT LCD edition with better resolution then the previous models with 800×600. This model is running Android 2.3 for the core operating system and for processing power runs the Samsung S5PV210 Cortex A8 1GHZ. It also has 512 MB of DDR2 memory and for storage space you have 4GB of memory that can be expanded to 32 GB via Microsd.
The next tablet from Coby boosts the screen size up to 8 inches from the 3 previous models which were 7 inches in size. This screen technology also has TFT LCD resistive and has 512 MB of RAM. For processing power you have a Samsung S5PV21 Cortex A8 1GHZ. The Kyros MID8025-4G also runs on the Android 2.3 operating system.
The next tablet certainly kicks it up a notch with a larger 10.1 inch screen that is capacitive instead of resistive technology, so it makes interacting with this device a little bit more robust. The resolution is also a bit better with 1024×600 pixels and also has 512 MB of RAM and a Samsung S5PV210 Cortex A8 1GHZ processor.
The final tablet they were showcasing was the Kyros MID 1026-4G which also features a 10.1 inch screen with the best resolution of all of Coby's offerings with 1024×768 and also is Capacitive TFT LCD. It also runs a more updated version of Google Android with 2.3 and has 512 MB of RAM with 4 GB of internal memory. Like the last few models you can also enhance it up to 32 GB via MicroSD.
From information we gleaned at the booth one of the representatives mentioned that the 10 series, the MID1025 and MID1026 specs were not set in stone. The spec sheets had said that the screens were capacitive (which can be interacted with, by merely the tip of your finger) but the prototypes on display with were obviously resistive (which can be interacted with via a Stylus or PDA pen, fingernail etc).The Booth people did say that they just got the models in today and were not indicative to the final product. Also, they mentioned that in the 10 series as well, that OS 2.3 probably might not be upgradable to a further iterations to Android updates, such as 3.0.
This is more or less why Coby has not been fourth-coming about price points for their tablets because of lingering questions on resistive/capacitive screens and future implementation of 3G devices will strongly be the factor between a 0 entry level tablet and a 0 one. They did mention that the 7 and 8 series will be out in the market in the USA only in Q2 of 2011. No word yet on the availability on the 10 series, but we see this maybe coming out at the end of the year.
Related posts:
Good E-Reader IFA 2010 Exclusive: Coby 810 tablet spotted
Coby launches the Kyros Android tablet
Coby launches Kyros MID7015 Android tablet
Good e-Reader Exclusive – The MiNew M-PAD W10T Tablet PC
Good e-Reader CES exclusive – Toshiba Android 3.0 Tablet PC
Good e-Reader CES Exclusive – The Samsung Slide Series 7 – Windows 7 Tablet PC

Good E-Reader Blog - Electronic Reader and Tablet PC News