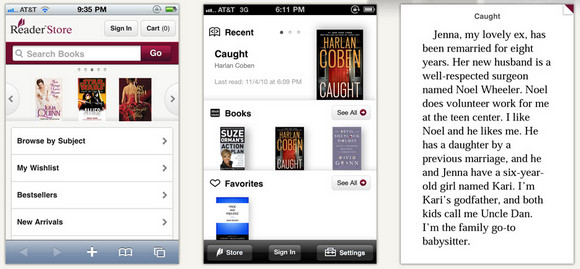 We reported a few weeks ago that Sony has released their first e-reader application for Android and had plans to do an iOS version for the iPhone and iPad. True to their word they developed an app, but today Apple said "NO GO" to Sony.
Apple is really coming down hard on application developers that sell subscriptions and ebooks on their own, cutting Apple out of their 30% take on each sale. The new Sony iOS application had access to the New York Times, and you had to take out a subscription directly with the times. Apples reply to Sony was much akin to many more companies we have heard from lately. We heard that "developers can no longer sell content, like e-books, within their apps, or let customers have access to purchases they have made outside the App Store."
In response to Apples denial for Sony's application they had this to say on the matter, " We would like to update everyone on the status of our Reade for iPhone mobile application. We created an app that we're very excited about, which includes all the features you've come to expect from a mobile reading application – including access to your existing collection, syncing with your Reader Daily Edition and purchasing new content as is possible on other mobile platforms.
Unfortunately, with little notice, Apple changed the way it enforces its rules and this will prevent the current version of the Reader for iPhone from being available in the app store. We opened a dialog with Apple to see if we can come up with an equitable resolution but reached an impasse at this time. We're exploring other avenues to bring the Reader experience to Apple mobile devices. We know that many of you are eagerly awaiting the application and we appreciate your continued patience.
Now what does this mean for other applications that allow you to buy ebooks directly from the company? Amazon, Barnes and Noble, and the Kobo application are the most popular. It seems Apple is trying to launch their Daily Newsstand program and bill subscriptions directly, rather then the individual companies handle the billing. This way Apple can make their money from each transaction. So it looks like eBookpurchases are safe right now, but newspaper, and magazine subscriptions are quickly becoming taboo.
Related posts:
Sony Reader Android App is now available
Apple is getting stricter with publishers ahead of "Daily" launch
Sony Reader Daily Edition PRS-950 is now available
News Corp and Apple delay launch of the Daily Newsstand
E-Reader Software To Make The Difference
Sony is Developing a new Android Tablet

Good E-Reader Blog - Electronic Reader and Tablet PC News